We're Here to Help You Navigate
Year-End Successfully
As you enter the busy holiday season, we're here to guide you to end 2023 strong and step into 2024 with a great start.
Year-end payroll is the process of reviewing and summarizing all the taxable benefits you've given your employees throughout the calendar year. That's where we come in! We make the tedious process easier for busy employers like yourself. We will take care of the details, and alert you of key dates and deadlines you should be aware of during this busy season. 
Attn: Employee Bonus Request Forms are due by Friday, December 8! Read the checklist for more details. 
✨Your 2023 Year-End Checklist✨
Every business has unique year-end reporting needs, and you may need to provide ProService with additional information that affects W-2 Forms. Use this checklist to help you determine what you need to do this year-end season.
📌Take 5 minutes to review the scenarios that apply to your business. Then, get all the answers you need on the drop downs below – including key action items and deadlines.
Are you planning to provide your employee(s) with a year-end bonus?
If you'd like to give your employees a special year-end bonus, complete and submit this Bonus Request Form to your Service Team by Friday, December 8. You can give your employee a year-end bonus as part of their regular payroll, or as a separate payment from their regular paychecks. We can also help you with gross-up calculations. If you want to deliver bonus checks in a fun and memorable way, read this article for tips and more.

Do you want to make a contribution to employee retirements plans?
Another way to celebrate your employees' hard work is to contribute extra employer contributions to their retirement plans. If you'd like to do this, please let your Service Team know by Friday, December 8. If you are the owner of your business, and you'd like to maximize your contribution to your own retirement plan for 2023, please also let your Service Team know by the date above.
Do you have any taxable employee benefits or payroll adjustments to report?
In general, the IRS has specific tax treatments for certain employee benefits that we need to apply and report accordingly on employee W-2 Forms. Additionally, we must adjust employee compensation based on any payroll adjustments you notify us about to ensure W-2s are prepared accurately. 
If any of the following items apply to your business, please report them to your Service Team and provide appropriate documentation by Friday, December 15. If you are unsure, please consult your CPA or tax advisor and see if any of the items below apply to your company and should be shared with us.
Employee Benefits
Use of a Company Vehicle

Moving Expenses 

Group Term Life Coverage

(exceeding $50,000)

Long-Term Disability Payments

Any Schooling/Course paid by your company that's unrelated to the employee's job

Non-Accountable Business Expense Reimbursements or Allowances

Non-Cash Payments (e.g. gift cards)

Other Compensation (Any compensation paid outside of ProService)
Employer Contributions
To Healthcare Premiums

(not administered by ProService)

To Retirement Plans (not provided by ProService/TransAmerica)

Health Insurance Premiums by an S-Corp to 2% Shareholder/Employees (not administered by ProService)
Payroll Adjustments
Checks paid through your A/P (that were not reported to ProService)

Checks for overpayments or bonuses that should not be paid/voided
Is your employer information out-of-date?
Has your company's legal name, ownership status, mailing address, or taxpayer ID numbers changed in 2023? As a best practice, please ensure this information is correctly reported in your HR platform. If any, please share updated information with your Service Team by Friday, December 15. This information is necessary for us to prepare employee W-2 Forms and file corresponding forms with the IRS, SSA, and state/local tax agencies on your behalf.  
Are employee names, mailing addresses, and SSN out-of-date?
Have your employees changed their legal name, mailing address, or social security number? If so, please remind employees to update their information by Friday, December 15. 
As a best practice, we recommend all employees double-check that their correct information is reported in their HR platform. For assistance on how to log in to their HR platform to make updates, employees can call the ProService Employee Service Center at 808-394-4162 from Monday – Friday, 8 am – 5 pm,  for assistance.
📣 Help us stay on track! Outdated employee information could result in delays in preparing employee W-2 Forms or Form W-2 C, which is a corrected wage and tax statement that will be issued in February. Additionally, since W-2 Forms contain sensitive information, mailing this tax form to an employee's old address is a situation we'd like to avoid but we need your support to remind employees. 
Do you have third-party sick/TDI payments to report?
If you have third-party sick or Temporary Disability Insurance (TDI) payments to report, please send your 2023 Disability Income Report(s) from your third-party administrator to your Service Team by Tuesday, December 26. Third-party sick/TDI pay will be reported on employees' W-2s. 
Do you have out-of-state employees?
Starting in December, you will receive notifications from state agencies about your 2024 State Unemployment Insurance (SUI) rates in that state. Please share these state UI rate notifications with your Service Team by Friday, December 29, 2023. This information will be used to prepare your first payroll of the year. Note: Each state has a different way of delivering rate notifications to businesses. You may receive a letter in the mail or be able to retrieve this information online if the state agency notifies you that SUI rates are only available electronically. If you have employees in Washington State, notifications aren't distributed until January 1, 2024.
Learn about new laws that may impact you and your employees in the FAQ section.
Do you have minimum wage employees?
Starting January 1, 2024, the minimum wage in Hawaii will rise from $12 to $14 per hour. For employers utilizing Hawaii's Tip Credit Law, the 2024 increase to minimum wage increases the adjusted minimum wage for tipped employees to $12.75 per hour. ProService will update our payroll systems on January 1 so that the wage rate for hourly employees below the new minimum wage of $14/hour will be automatically adjusted to receive the new minimum wage. If you use tip credits, we will also make the adjustments in our payroll system for you. 
Employers should notify their affected employees in advance in writing or through a posted notice of their new pay rate. Read our article to learn more: What to Know About Hawaii's Minimum Wage Increase on Jan 1.
Resources for employers:
Will you have 50 or more employees in 2024?
Starting January 1, 2024, Hawaii's new pay transparency law goes into effect. This law applies to employers with 50 or more employees and mandates that hourly/salary ranges be included in all job listings. Hawaii's pay transparency law follows similar laws recently enacted in California, Colorado, and New York, intending to reduce pay inequality in the workplace. Not only does it benefit job applicants, but it also benefits current employees by giving them visibility into wage ranges of open positions, enabling them to seek higher compensation, thereby helping to reduce pay inequalities further. Read our article to learn more: Hawaii Adopts Pay Transparency Laws.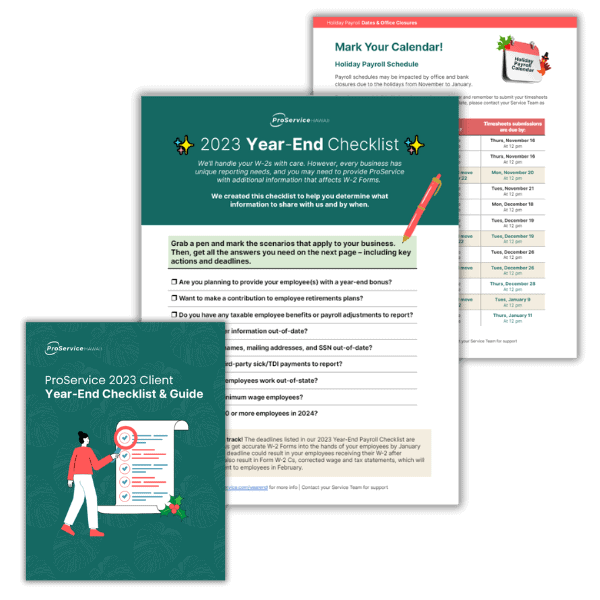 🗓️ Important Year-End Deadlines to Know
Fri, 12/8 – Submit your Bonus Request Form if you plan to give a bonus
Fri, 12/8 – Make an employer contribution to retirement plans
Fri, 12/15 – Submit taxable employee benefits or payroll adjustments
Fri, 12/15 – Update or change employee contact/mailing addresses
Tues, 12/26 – Submit Third-party sick/TDI reports
Fri, 12/29 – Submit any Out-of-state unemployment rate notices
📣 Help us stay on track! The deadlines listed in our 2023 Year-End Payroll Checklist are critical for helping us get accurate W-2 Forms into the hands of your employees by January 31, 2024. Missing a deadline could result in your employees receiving their W-2 after January 31. It may also result in Form W-2 C, corrected wage and tax statements, which will be prepared and sent to employees in February.
Get advice and information for businesses in Hawaii.
 More questions? Read our FAQ for employers and employees.
Have Questions? We're Here to Help!
If you're a ProService client, contact your Service Team. They are happy to assist you! If you're an employee of a ProService client, call our Employee Support Center at (808) 394-4162 from Monday – Friday, 8 am – 5 pm, for assistance.
Launched in 1994, ProService Hawaii is the leading provider of bundled HR solutions that empower employers to succeed in Hawaii. Today we serve 2,500+ local businesses and 44,000 employees across the state, helping employers with HR strategy, payroll, benefits, risk and compliance management, and much more.
Voted Hawaii's Best
2021 & 2022
Hawaii's Top 250 Companies
2000-2023
Voted Best Places to Work
2006-2023
ESAC Accredited 
2006-2023